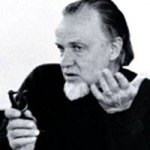 Unlike former Governor of Arkansas, Mike Huckabee, I have read Crazy for God, by Frank Schaeffer, as well as Whatever Happened to The Human Race, by Francis Schaeffer. I have also thoughtfully read and considered The Tapestry, by Edith Schaeffer, wife of Francis and mother of Frank. Also dissimilar to Governor Huckabee, I see a great deal of Frank's parents in him.
He is honest and forthright about his ideas and about who he is- about his own perceptions of the life he has lived, and of the world in which he has lived it. This is quite in concordance with who his parents were; and in this sense Frank is commendable.
I am praying for Frank, out of respect for his father and for his father's ministry which has had a terrific impact for good upon my life, and on the lives of so many Christians. I hope others will continue to 'knock on the door' for Frank.
My thanks to Governor Huckabee for sharing his favorites list- I certainly appreciate some of the same books, and may God be continually near to him, as we are thankful for his life of dedication to the public good.