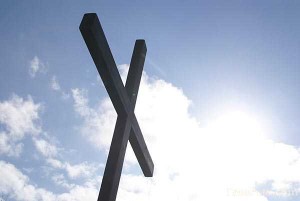 For Emily, Donald, Anna, Jonathan, Alexander, Jaxon, and Little Madelyn, with great and genuine affection
Man began before the ages,
Thought within Eternal Pages.
By stirrings of His mind was wrought,
A lover for Himself He sought…
My Love be mine, by me fashioned,
Will be brought to know my passion.
She, placed in Paradise to rule
Will meet The Serpent, come to woo.
The choice be hers to honor me,
She'll fall into her destiny.
Convinced she is not truly free,
In selfishness she'll flee from me.
Into her nature she'll descend,
Still I to hers my soul will mend.
From dust to dawn I will transcend,
Myself in Christ will recommend,
Restoration through salvation,
Genesis to Revelation,
And though it cost me all, I Am.
I'll be for her The Spotless Lamb.
I will buy back what once was mine,
Will burn away the dross- refine.
I will most purposefully die
Restoring luster to her eye.
In Hell I'll stand to take her place
To earn for her redeeming grace.
Her true identity once lost,
She'll find once more nailed to the cross.
Now in mine be One, gentle, wise,
Truth full, who sees with my own eyes;
Who'll convict and comfort ever,
Who'll from grace be severed-never!
Once lover of the world made wise
Will come her nature to despise.
My nature now she'll learn to crave.
She will be mine beyond the grave!
Thus she will wander lost no more.
She will be with me as before.
All be mine by my own power-
Redemption be our finest hour!
©2011, L.L. Shelton